The VA Staff
Here are some of the folks you will find when you come to the Cathedral for classes or open gym.  You can email any of them at <name>@versatilearts.net (e.g., beverly@versatilearts.net).
Beverly Sobelman  Director, Instructor, Impresario
Three of the things Beverly loves to do: performing, teaching, and putting on shows. How lucky she is to have a job where she gets to do all three. You can learn more about her in the Sept 2010 issue of O Magazine!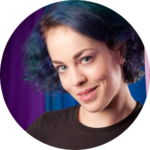 Lauren  Program Coordinator, Youth Program Director, Instructor
When Lauren took her first aerial lesson 2008, she never dreamed that it would turn into a career. 10 years later, she finds herself the Program Coordinator and Youth Program Director at Versatile Arts. Along the way, she spent a year at NECCA in their Intensive Program, and has become a NASM certified Personal Trainer and a Certified Pilates Instructor and is constantly looking for interesting was to further educate herself. Lauren is passionate about teaching people how to connect to their bodies and move, using circus and aerial as a means to that end. She loves teaching recreational adults how to begin to put the pieces of aerial training together and is excited to empower her youth and teen students to move and create fearlessly. She also works with people returning to training after injury and childbirth. Her apparatus of choice are trapeze, single point sling, and double loops which she began working with as her solo piece while at NECCA. You can also finding her chasing handstands and struggling on the straps.
Kim  Operations Assistant, Studio Manager, Instructor
Kim Z began her aerial training at Versatile Arts in 2012 and fell head-over-heels in love with aerial arts. Having devoted her life and career to movement, Kim teaches aerial at VA as well as Pilates at Vitality Pilates. She embraces being challenged physically and mentally by each new skill, and and loves the reward of making a movement pathway more precise. She is known for dynamic aerial beats and drops and for spinning REALLY fast! She performs on Rope, Fabric, Spanish Web, Slings & Swings and is half of aerial duo TSA (Top Shelf Aerial), collaborating with partner Rebekah Bastian. While she remains the last person not on social media, you can follow her aerial endeavors at aerialbandits.com/kim.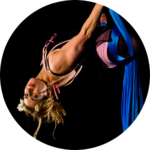 Jill Maio  Operations Manager, Instructor
Jill Maio has been training, performing and teaching aerial acrobatics since 2003. A former coach at the Philadelphia School of Circus Arts, she taught frequently in the UK and Europe and founded AirCraft Aerial Arts in Boston, running the organization from 2009 – 2018. Her teaching combines technical skill with creativity and humor, allowing students to explore new reaches of ability in a safe and friendly environment. Jill is also an award-winning writer of short fiction, and may or may not be working on a novel at the table downstairs.
Alex  Instructor
Alex Goldstein started dancing as a young child, but stopped to pursue sports and academics. She took up dance again at the end of grad school and has been high kicking ever since. Alex's undergraduate and graduate degrees are in chemistry, and she worked in software development for 20 years before leaving that world behind to focus on movement. She has danced professionally for a number of Seattle-area companies, and currently dances with the take3 dance project. Alex trains in ballet, performs modern, but finds the most joy in jazz. She discovered circus arts nine years ago. Her favorite apparatus is the one she is not actively hanging onto, but she specializes in rope and single point trapeze. Alex is also a Soma practitioner with her own practice, Enso Bodywork.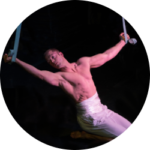 Bob  Instructor
Bob sought out Aerial training at Versatile Arts in 2009 as a new way to exercise and has never looked back. Although initially focusing on rope and lyra, aerial straps have been his primary aerial apparatus for the last 6 years. Since joining the Versatile Arts staff in 2016 as an Aerial Straps coach and Conditioning coach Bob has relished the challenge of melding his other life as a Personal Trainer with his Aerial coach existence. This unique skill set allows him to provide students with the highest level of skills coaching, anatomy and physiology awareness, injury prevention and movement efficiency required to reach their Aerial goals. Bob is blessed to have had many exciting performance opportunities as well as to receive training from the highest level of international coaches.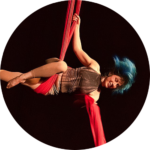 Danya  Instructor
Danya discovered a love for movement arts after watching the 1995 PBS recording of Riverdance, to be quite specific. Since then, she has enjoyed dabbling in many forms of dance, movement, and more recently circus arts. Inspired by the combination of athleticism, grace, and seeming magic of aerial arts, she favors tissu (although might be starting a new relationship with a trapeze, shhhh!). Danya's current interests in the air include translating dynamic rope movements to fabric, hanging from one elbow, and spinning like mad! She is incredibly thankful for the community that circus and Versatile Arts in particular has created, and loves the friends, mentors, teachers, and students she has found through classes and performances. Most recently she is a member of the performing company Unfiction Works.
During the day she is absorbed in developing reusable products and sustainable materials. When not busily tying herself in knots, you may find her curled up with her cat listening to audiobooks, getting lost in the great outdoors, or attending metal shows.
Enza  Instructor
Enza is a full-time dinosaur, part time student, and general circus weirdo. When she's not stomping through prehistoric forests, she can be found creating art onstage and off. She was born into the world of ballet and ballroom dance but defected to the circus at the age of 19. A few years later she found her apparatus of choice, the pole; both flying and stationary. When she is not teaching or training on it, she can be found climbing, dancing, acrobalance-ing, and generally trying to learn any circus art she can get her hands on. Her favorite thing about teaching is helping people become more connected and confident in their bodies and watching them take those skills with them outside of the studio.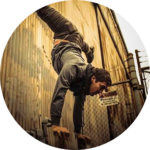 Gunnar  Instructor
Gunnar Field has been coaching contortion and handstands for many years. He started his passion for contortion as a teenager after stopping gymnastics, he's studied circus in Mongolia , China as well as around the US. Gunnar takes his passion for the art of contortion and shares it with students all over the world. You can find him most days with his army of bendy students.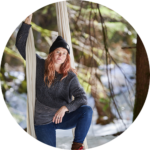 Jenn  Instructor
When not on the road Jenn resides in the magical wonderland that is the Pacific Northwest in her beautiful tiny off grid home with her two weenie dogs. Jenn has been immersed in aerial arts since 2008. She is driven by her focus on fabric (silks) and sling (hammock) and her first love trapeze [of all sorts]. She also enjoys exploring cord lisse, cloud swing, lyra, net, rope & harness and anything else someone puts in front of her. She has coached, choreographed and performed around the world including over 30 US states, China, Italy, Germany, Ireland, Austria, Canada, Portugal, Costa Rica and Mexico.
As an Aerial Coach, she seeks to provide the highest quality progressive instruction to aerialists of all abilities from novice to professional performer. Her mission as a human is to cultivate a warm, non-judgmental learning environment that fosters community, to build physical and emotional strength within the individuals who participate in this environment and methodically construct a vehicle by which to create art.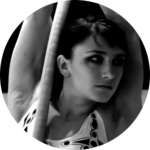 Jill Marissa  Instructor
Jill Marissa is a former competitive gymnast who went on to receive a BA in Dance from Hunter College in 2004. Since moving to Seattle, she has danced and choreographed professionally for several companies including DASSdance. She fell in love with the aerial arts in 2007 and never looked back. In 2009 she co-founded ticktock, a company that bridges the gap between circus and modern dance. She has performed abroad with The Aerialistas, the Original Aerial Girl Gang. Currently she is one half of Dizzy Daze, partnering on trapeze with Lara Paxton. She specializes in rope, duo trapeze, handstands, and ground choreography.
Karen  Instructor
Karen de Luna has been dancing for over three decades and started her aerial career on the flying trapeze. In 2011 she took her first silks class, after training in swinging trapeze and handstands. In the aerial arts she finds that her love of being upside down and swinging help calm her monkey mind. She has performed in Europe and North America and choreographed dances and aerial acts on a variety of apparatuses for stage and screen. Karen coaches lyra, trapeze, and flexibility and loves to help students progress in their personal aerial and flexibility endeavors.
Leah  Instructor
Leah's thirteen years of combined dance experience started unofficially in her childhood living room and officially in the studios of Oregon Ballet Theater, where she trained in the pre-professional program for five years. After ballet, Leah explored other forms of dance, training most intensively with Tracey Durbin and Maricella Devine (Portland based) in Luigi jazz technique and funk-based hip hop respectively. Leah has focused the most recent chapter of her movement life on circus arts, specializing in aerial rope and straps. She received her most formative circus training at the San Francisco Circus Center and under the coaching of Portland-based straps artist Shersten Finley. Leah is a an American College of Sports Medicine-certified personal trainer and a hip hop dance instructor by profession, and describes her dance style as gritty, evocative, emancipated and full of contrast.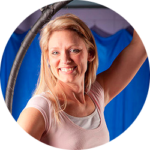 Nancy  Instructor
Nancy Neyhart began training in 2004, with early training in corde lisse, circus trapeze, rings, tissu and lyra. After years of studying various apparatus, Nancy's first love remains her true love – the lyra. She has taught at the Circus Arts Institute in Atlanta under the guidance of Carrie Heller, author of "Aerial Circus Training and Safety Manual", and here at Versatile Arts. Nancy enjoys teaching all students especially those brand new to the aerial arts (or to lyra).
Peter  Instructor
Peter Topping (they/them) is a flexibility coach at Versatile Arts. They specialize in performing Single Point Trapeze and Contortion. They love teaching people who can't touch their toes all the way to people whose toes touch their head. As Gunnar Field's apprentice they have had the opportunity to train under and learn to teach from a most talented coach. When not at the studio and reaching their head to their butt they are at home playing with and training a menagerie of goats dogs bird and reptiles even a tarantula made its way in there!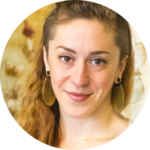 PJ  Instructor
PJ Perry has been performing aerial since 2008. She only found the corde-lisse as her primary apparatus in 2013.  She added Spanish web to her repertoire in 2014. Her performance focus is to utilize momentum and capitalize on the innate simplicity of the rope itself instead of complicated wraps and multiple-step drops, and she treats the rope as a flexible pole more often than a tangle. PJ is also currently expanding her horizons into the world of handbalancing and group choreography. Her performance history, local and international, includes time with the Dream Science Circus, the Aerialistas, the Bellingham Circus Guild, Moisture Festival, the Vancouver Circus Festival, the Denver Aerial and Acrobatic Arts Festival.
As an instructor and coach, PJ has been teaching movement since 2001 and integrates her background as a master Pilates instructor with her experience teaching collegiate kinesiology and related subjects in both the university and trade school environs. She holds a Master's degree in Kinesiology, multiple Pilates certifications, a massage therapy license, and a level 2 Neurokinetic Therapy certificate. PJ first and foremost wishes to meet each student exactly where they are at in the learning process so that safety, proper biomechanics, skill acquisition, and creative exploration can be achieved along with a healthy dose of FUN! More info at www.pjaerial.com
Sandy  Instructor
Sandy has been practicing aerial since 2008. She spends her time teaching and finding new ways to challenge herself, both on the ground and in the air. Sandy believes that no instructor should ever stop being a student. She takes classes and private lessons from other great instructors whenever she can, always learning new skills and new ways to strengthen and improve old skills. She works mainly on rope, fabric, and doubles trapeze.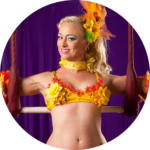 Tamara  Instructor
Tamara the Trapeze Lady started her aerial experience as a dancer with famed Seattle choreographer/dancer/inventor Robert Davidson. Her subsequent exploration took her around the country for classes and workshops at the SF Circus Center with lots of famous and talented people. She began teaching aerial dance in 1995 at her own studio in Pioneer Square and has performed around the U.S. and Canada as well as Spain, Portugal, and Thailand. Tamara has been teaching circus style aerial at Versatile Arts for the last year, while continuing her own never-ending journey of skill building with the amazing array of talented instructors that Beverly has sponsored at V.A.
Adjunct Instructors
Former VA staff we convince to come back and visit now and again.
 Alex
Alex Allan is an Aerialist and Dancer from Sydney, Australia. In 2008, he completed a BA in Communications (Theatre/Media) with a focus in physical theatre creation. 6 months later Alex was accepted into the Professional Aerial Program at the San Francisco Circus Center where he specialized in Aerial Rope. Alex has performed and taught workshops in Europe, Australia, New Zealand and the U.S. In his work, Alex combines his background of Theatre, Dance and Circus to create unique and original work. Whether in class or onstage his focus is on momentum-based movement to create choreography that is both fluid and dynamic.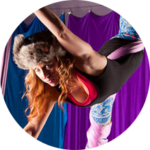 Michele  Frances
Michele is a physical therapist, Pilates instructor, and certified strength training specialist. She has been teaching and performing aerial arts nationally for since 2005. With an extensive background in human anatomy and kinesiology, she specializes in aerial silks, single and double point sling (aka hammock), and rope. Michele has been on the Versatile Arts staff since 2010, offering sling, conditioning, rope and tissu classes as well has private lessons. Her advanced knowledge in injury prevention, body mechanics, neurodynamics, conditioning techniques, and alignment enables her to help students acquire fitness goals and aerial skills that they never thought they could. Currently relocated to Austin, Texas- Michele is committed to frequent visits to Versatile Arts to teach and train. Learn more about her at Michelefrances.com
T Lawrence-Simon  
T Lawrence-Simon is a Boston-area native who is happy to be joining Versatile Arts. After years of professional theater experience, T started his circus training in Philadelphia, then moved up to the New England Center for Circus Arts in Brattleboro, VT for their two year professional training program. During the program, he was hired to enhance the aerial hoop curriculum, and to teach other high level aerial classes as well. He spends his summers as the Head Aerial Coach for Circus Smirkus. T is thrilled to bring his innovative creativity, unusual transitions, and true character artistry to Versatile Arts. He specializes in aerial hoop, and trapeze, as well as the unique double-bar trapeze, and is also highly skilled in teaching rope and fabric and invented apparatus work. If he's not in the air, you can usually find him sewing either a costume or a quilt, or teaching ZUMBA dance fitness classes. www.HoopArtist.com.