The VA Staff
Here are some of the folks you will find when you come to the Cathedral for classes or open gym.  You can email any of them at <name>@versatilearts.net (e.g., beverly@versatilearts.net).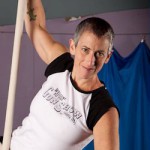 Beverly Sobelman  Director, Instructor, Impresario
Three of the things Beverly loves to do: performing, teaching, and putting on shows. How lucky she is to have a job where she gets to do all three. You can learn more about her in the Sept 2010 issue of O Magazine!
.

Sandy  Instructor, Operations Manager
Sandy has been practicing aerial since 2008. She spends her time teaching and finding new ways to challenge herself, both on the ground and in the air. Sandy believes that no instructor should ever stop being a student. She takes classes and private lessons from other great instructors whenever she can, always learning new skills and new ways to strengthen and improve old skills. She works mainly on rope, fabric, and doubles trapeze.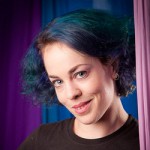 Lauren  Instructor, Program Coordinator
Lauren began her aerial training in 2008 at Versatile Arts. After segueing into instructing there, she decided to attend the Intensive Program at NECCA in order to take her training to the next level. Since her return to Seattle she has focused most of her attention on teaching and is a NASM personal trainer, as well. She teaches most levels and apparatus, focusing on static trapeze and sling at higher levels, but always with a strong focus on technique and efficiency of movement.
.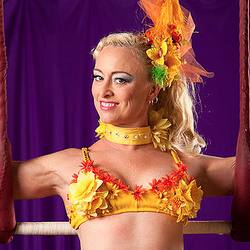 Tamara  Instructor
Tamara the Trapeze Lady started her aerial experience as a dancer with famed Seattle choreographer/dancer/inventor Robert Davidson. Her subsequent exploration took her around the country for classes and workshops at the SF Circus Center with lots of famous and talented people. She began teaching aerial dance in 1995 at her own studio in Pioneer Square and has performed around the U.S. and Canada as well as Spain, Portugal, and Thailand. Tamara has been teaching circus style aerial at Versatile Arts for the last year, while continuing her own never-ending journey of skill building with the amazing array of talented instructors that Beverly has sponsored at V.A.
Nancy  Instructor
Nancy Neyhart began training in 2004, with early training in corde lisse, circus trapeze, rings, tissu and lyra. After years of studying various apparatus, Nancy's first love remains her true love – the lyra. She has taught at the Circus Arts Institute in Atlanta under the guidance of Carrie Heller, author of "Aerial Circus Training and Safety Manual", and here at Versatile Arts. Nancy enjoys teaching all students especially those brand new to the aerial arts (or to lyra).
Jenn Instructor
Jenn is a NASM Certified Personal Trainer with over 10 years of experience in the outdoor and fitness industry. She has been exploring movement through the aerial arts since 2008 via all sorts of apparatuses, including some you've probably never heard of! She teaches a variety of classes at VA and is always happy to provide private instruction. You can find out more about her as an aerial performer at heelhang.com or join her for pole dance/fitness at interbayfitness.com.
Leah  Instructor
Leah's thirteen years of combined dance experience started unofficially in her childhood living room and officially in the studios of Oregon Ballet Theater, where she trained in the pre-professional program for five years. After ballet, Leah explored other forms of dance, training most intensively with Tracey Durbin and Maricella Devine (Portland based) in Luigi jazz technique and funk-based hip hop respectively. Leah has focused the most recent chapter of her movement life on circus arts, specializing in aerial rope and straps. She received her most formative circus training at the San Francisco Circus Center and under the coaching of Portland-based straps artist Shersten Finley. Leah is a an American College of Sports Medicine-certified personal trainer and a hip hop dance instructor by profession, and describes her dance style as gritty, evocative, emancipated and full of contrast.
Alex  Instructor
Alex Allan is an Aerialist and Dancer from Sydney, Australia. In 2008, he completed a BA in Communications (Theatre/Media) with a focus in physical theatre creation. 6 months later Alex was accepted into the Professional Aerial Program at the San Francisco Circus Center where he specialized in Aerial Rope. Alex has performed and taught workshops in Europe, Australia, New Zealand and the U.S. In his work, Alex combines his background of Theatre, Dance and Circus to create unique and original work. Whether in class or onstage his focus is on momentum-based movement to create choreography that is both fluid and dynamic.
Jill  Instructor
Jill Marissa is a former competitive gymnast who went on to receive a BA in Dance from Hunter College in 2004. Since moving to Seattle, she has danced and choreographed professionally for several companies including DASSdance. She fell in love with the aerial arts in 2007 and never looked back. In 2009 she co-founded ticktock, a company that bridges the gap between circus and modern dance. She has performed abroad with The Aerialistas, the Original Aerial Girl Gang. Currently she is one half of Dizzy Daze, partnering on trapeze with Lara Paxton. She specializes in rope, duo trapeze, handstands, and ground choreography.
  .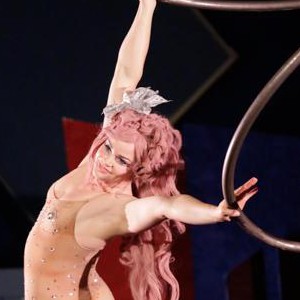 Tanya Instructor
Tanya has been an influential part of the Seattle circus scene and one of the Northwest's premier performers for over 9 years, after having trained most of her life at the nation's top ballet schools including School of American Ballet (NYC), San Francisco Ballet School, and Pacific Northwest Ballet, for which she moved here on scholarship at 16. In her aerial career, she has toured in Ireland on contract, instructed the circus staff at Club Med resorts in exotic locales, and has passed auditions for both Cirque du Soleil and Dragone Productions. She appears at events for clients such as Microsoft and Google regularly, and holds two weekly residencies at venues around town. She is a member of The Atomic Bombshells Burlesque, and collaborates with other groups in town such as The Acrobatic Conundrum, the Aerialistas, and Animate Objects Physical Theater. She is well versed in and regularly performs on a wide range of apparatus, ground partner acrobatics, and pole, but specializes in rope and fabric and invented apparatus. She instructs at Versatile Arts in the Greenwood neighborhood, where her students continually inspire her. www.tanyabrno.com
.
Michele  Instructor
Michele is a physical therapist, Pilates instructor, and certified strength training specialist. She has been teaching and performing aerial arts nationally for since 2005. With an extensive background in human anatomy and kinesiology, she specializes in aerial silks, single and double point sling (aka hammock), and rope. Michele has been on the Versatile Arts staff since 2010, offering sling, conditioning, rope and tissu classes as well has private lessons. Her advanced knowledge in injury prevention, body mechanics, neurodynamics, conditioning techniques, and alignment enables her to help students acquire fitness goals and aerial skills that they never thought they could. Currently relocated to Austin, Texas- Michele is committed to frequent visits to Versatile Arts to teach and train. Learn more about her at Michelefrances.com
T Lawrence-Simon  Adjunct Instructor
T Lawrence-Simon is a Boston-area native who is happy to be joining Versatile Arts. After years of professional theater experience, T started his circus training in Philadelphia, then moved up to the New England Center for Circus Arts in Brattleboro, VT for their two year professional training program. During the program, he was hired to enhance the aerial hoop curriculum, and to teach other high level aerial classes as well. He spends his summers as the Head Aerial Coach for Circus Smirkus. T is thrilled to bring his innovative creativity, unusual transitions, and true character artistry to Versatile Arts. He specializes in aerial hoop, and trapeze, as well as the unique double-bar trapeze, and is also highly skilled in teaching rope and fabric and invented apparatus work. If he's not in the air, you can usually find him sewing either a costume or a quilt, or teaching ZUMBA dance fitness classes. www.HoopArtist.com.
Lisa  Adjunct nstructor
Lisa has been a familiar face around VA for many years. She taught with Esther Edelman at the Youngstown Community Arts Center, for SANCA, and heads the youth aerial program for the UMO School of the Physical Arts on Vashon Island. She also offers private instruction. She specializes in tissue, but has versatility on rope, sling and trapeze. In addition to performing at VA events, Lisa has been a regular participant in Airlift, and does corporate and private events and fundraisers for several arts organizations. She is also a professional photographer, project manager and mother of two teenagers.