Guest Artist Workshops
In addition to the regular session classes offered by the fine Versatile Arts staff, we are often lucky enough to have guest instructors offering workshops at the Cathedral.   Sign up for the Versatile Arts Workshop Announcement List to be notified of upcoming workshops, or just check back here periodically to see what's coming up!
Dynamic Rope
with Emiliano Ron
9 hours of instruction over 3 days!
Saturday, July 1st 2:00 – 5:00 PM
Sunday, July 2nd 2:00 – 5:00 PM
Monday, July 3rd 10:00 AM – 1:00 PM
Cost: $375 for 3 days, $250 for any 2 days.
The Rope material of Emiliano Ron is focused on dynamic movement, such as beats, tempos and releases; and power movement requiring coordinated core strength. Many of the movements are unique and Emiliano is a leading contributor to the art of Corde Lisse. During the course, Emiliano will provide ample demonstration physically in addition to verbal instruction and correction.
The three days of work will build on one another, but students are also welcome to participate in any 2 days of their choice. There will be multiple ropes available at the course, lots of opportunity for one-on-one instruction from Emiliano and also plenty of time to practice the movements on your own. Videos of his work, both training and performance are included in the links below.
Prerequisites: This is a multi-level course. Come ready to challenge yourself at your level.
Note that the registration page provides options to sign up for the entire 3-day series at once, or for individual days.  Make sure you select the correct option!
Use this link to register if you have a VA account:

Or this one if you've never trained at VA before: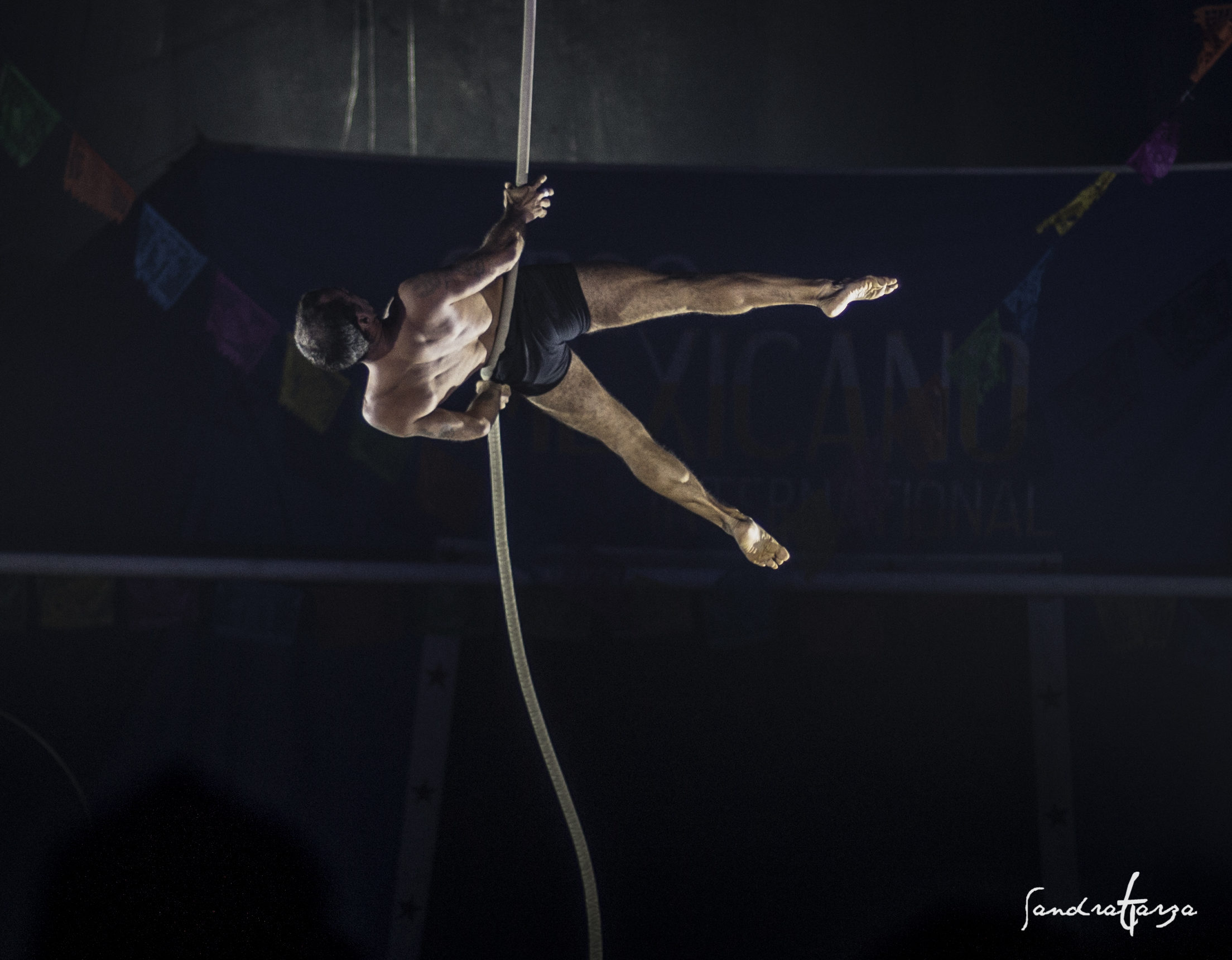 Tireless spirit, Emiliano's particular lifestyle has taken him to teach and perform in places as diverse as India, Sweden, Palestine, Israel, USA, Mexico, Austria, Argentina, Germany, Colombia, UK, Italy, Hungary, France, China, Costa Rica, Greece, Belgium,Brazil, Iceland, etc… With an academic background in Cinematography Arts (Editor and Director of Photography) and great passion for martial arts, punk rock, books and skateboarding, he decided to give up everything and become a circus performer.
He has become a living legend of the Rope, and divides his profession as an artist and teacher; The creation of new movements and the development of an eccentric, unique and particular style. A rope freak.
---
Introduction to Handstands
with Sam Lewis
Friday, July 7th 6:00 – 8:00 PM
Cost: $40
warm up and pre-hab
explanation and basic drills for inversion
various methods of progression into handstand and starting to find balance
personal spotting of each student and help with inversion
flexibility drills while students rest
conditioning drills based on the levels of students attending
rehab and Q&A
Prerequisites: None! Everyone is welcome to join this class.
Intermediate Handstands: technique and strengthening
with Sam Lewis
Sunday, July 9th 6:00 – 8:00 PM
Cost: $40
warm up and pre-hab
wall drills for finding balance and correct alignment
drills to get into handstand (presses, hops, kick-ups etc.) On and off wall
personal spotting of each student and technical cues
drills for flexibility and other hand balance techniques while resting
strength & conditioning drills in handstand (depending on level of students being able to hold handstand either on wall or open floor)
rehab and Q&A
Prerequisites: ability to kick up and hold handstand on wall
Advanced Handstands: technique with strength & conditioning
with Sam Lewis
Friday, July 14th 6:00 – 8:00 PM
Cost: $40
warm up and pre-hab
techniques, drills and spotting for advanced handstand shapes on two hands (eg: side bedding, mexican, various head positions, planche etc.)
one arm handstand weight shifting drills and spotting each student
drills for stretching and more advanced bent arm balancing techniques while resting
advanced conditioning for optimal stamina and strength for handstand
rehab and Q&A
Prerequisites: ability to hold solid handstand on the floor unassisted
Use this link to register if you have a VA account:

Or this one if you've never trained at VA before:

---
Previous workshops we've hosted include:
Choreographic Drops
with Rain Anya
Saturday, March 25th from 2:00pm – 4:00pm
Cost: $60. Only $50 if you sign up for both workshops with Rain! (To access this discount, change the amount due for each workshop on the first registration page.)
In this intermediate / advanced workshop, you'll learn inventive drops that also highlight the choreography of wrapping into the drop itself. Take your fabric drops to a whole new level of artistry. We'll be working up to the drops through progressions, walk downs, and understanding of the wraps, so that all participants can approach the material with safely and confidence.
Prerequisites: Experience on aerial silks, comfort with inversions (without cheating!) in the air multiple times, knowledge of basic aerial drops, and the strength to be in the air for 5 minutes at a time. (Versatile Arts Level 3)
Spring Sling
with Rain Anya
Saturday, March 25th from 4:30pm – 6:30pm
Cost: $60. Only $50 if you sign up for both workshops with Rain! (To access this discount, change the amount due for each workshop on the first registration page.)
In this intermediate workshop we will focus on three major components of mastering the art of slinging…momentum work, creative transitions, and of course, spinning. Come get some new inspiration on what this limitless apparatus as to offer. Leave with new sequences, drills, and fresh ideas on how to take your sling work to the next level.
Prerequisites: Experience on sling or silks and the ability to pull over on a high sling. (Versatile Arts Level 2B)
Rain Anya has been a passionate instructor of aerial arts since 2004. Rain's teaching style focuses on gaining solid foundation, technique, and strength as well incorporating the creativity and artistry of this expressive discipline. Rain has taught studio classes, specialty workshops, festivals, and private lessons at over 30 aerial venues across the US and abroad. Rain offers teacher training courses for aerial arts through Paper Doll Militia. She is Yoga Alliance certified and has extensive knowledge in various other movement forms that inform her distinct style, including a lifelong background in theatre and dance. Rain also works as an aerial consultant and coach for individual performers and projects. Notable clients; Bollywood actress Katrina Kaif, for her role in the feature film Dhoom 3, nation-wide casting call for threesixty entertainment, act development coaching for Serena Williams, Arova Ballet company, and other various artists. She has performed original aerial theatre with her company Paper Doll Militia since 2006.
Vertical Innovations
with Anna Thomas-Henry
Monday, January 30th from 6:00 – 7:30 PM.
Cost: $45. Only $40 if you sign up for both workshops with Anna! (To access this discount, change the amount due for each workshop on the first registration page.)
In this workshop we'll follow a series of techniques for innovation on fabric. How do you take a skill you have seen over and over again and make it your own? Where do you start? How do you know you're still safe? What do you do if you're not feeling that "creative"? Come to this workshop with a skill or sequence in mind and we will begin to make it yours!
Prerequisites:
Must be able to climb to & invert at the top of the fabric.
Experience with dropping forward and side.
Experience with multiple pose based skills.
Versatile Arts level 3
Flexible Fabric
with Anna Thomas-Henry
Monday, February 6th from 6:00 – 7:30 PM.
Cost: $45. Only $40 if you sign up for both workshops with Anna! (To access this discount, change the amount due for each workshop on the first registration page.)
This workshop is geared towards those who love to get their stretch on and love to show off their flexibility in the air. Over the course of this class we will go through a series of stretching exercises to properly warm up and activate your flexibility and then get up and use it! Expect an aerial extravaganza of splits, back bends, straddles and open shoulders!
Prerequisites:
Able to climb to the top of the fabric without loosing grip strength.
Comfortable sitting into footlock splits.
Able to hold a bridge on the floor with straight elbows for 10sec.
Versatile Arts level 2B
Anna is a contemporary circus artist specializing in aerial fabric. Her innovative work has earned her first place at the U.S. Aerial Championships in NYC as well as placement as a finalist at the Aerial Acrobatic Arts Festival in Denver. She is a multi-disciplinary performer who has performed and toured in circus, dance and musical theater all across the country.
As a coach you can find Anna training beginners and professionals alike. Formerly the Aerial Lead & Principal Coach for the Professional Prep Program at SANCA, Anna now makes her home as the first Artist in Resident at Body & Pole NYC. Her students know her for bringing an eye for technical development, specificity and creativity to every class whether it be in aerial, hand-balancing, or flexibility.
Movement Exploration and Act Creation
with Rachel Walker
Friday, September 30th from 7:00 – 9:00 PM
Saturday, October 1st from 5:00 – 7:00 PM
Sunday, October 2nd from 5:00 – 7:00 PM
Cost: $160
This three-day, movement-based workshop will explore techniques to awaken the creative process, develop and refine existing creations. Students will work on the apparatus of their choice.
Aerialists will focus on discovering and expanding, unique expressive movement vocabulary; and apply this to creations in development. We will do a group warm up. Use solo and group exploration as tools to sharpen our artistic vision and clarify our voice. Time will be divided between research, and working on your own personal material.
Please bring: Video camera, pen and paper for note taking, music
Prerequisites: intermediate/ advanced level aerialists, only. Students must be very comfortable on chosen apparatus and able to explore movement sequences for several minutes at a time.
Flexibility
with Rachel Walker
Saturday, October 1st from 2:00 – 4:00 PM
Cost: $50
Learn and practice new techniques for improving flexibility, avoiding injury, and developing a greater range of motion. This workshop includes warm-up, followed by solo and partner stretching exercises. Emphasis will be on developing splits, over splits, shoulder and back flexibility. This class will not cover contortion. You will leave the workshop with safe and effective ways to improve your flexibility.
Prerequisites: Previous circus training

Rachel Walker is a Montreal based aerial trainer.
Formed by legendary trapeze coach Victor Fomine, she starred as the original Swinging Trapeze Artist with Cirque du Soleil's "KOOZA". Rachel has also performed with TV 5, Circus Discordia, Paradiso Festival, and The Dresden Dolls.
Rachel holds a diploma from the Ecole National de Cirque 765 hour accredited teacher training program, where she is an affiliate coach. She has participated in NECCA teacher trainings as well. Rachel travels in North and South America as a guest teacher, in addition to teaching students privately, at Ecole Leotard, in Montreal. She was head coach in Cape Town, South Africa at Zip Zap Circus School 2014.
Rachel has been on the judging, and pre selection panel of the Aerial Acrobatic Arts Festival in Denver since 2012, and has received a grant from Polo Circo, to present Master Classes in Buenos Aires. Rachel has collaborated on solo acts for: Cirque du Soleil's "O", "Varekai", "LOVE" & "LUZIA". Dragone "LA REVE", Cavalia "ODYSSEO", Circus Monti, Cirque Plume, SOLYCIRCO Festival, GYNOIDES, Palazzo, Midnight Circus, Cirque Mechanics, Cirque Bezerk, & The Los Angeles Women's Theatre Festival.
Her students have been accepted to professional institutions such as
ENC, ECQ, and ESAC.
Duo Trapeze: Two People, One Mission
with Duo Madrona (Ben and Rachel)
Sundays, July 24th – August 14th from 3:30 – 5:30 PM.
Cost: $60 ea or $200 for all four
Register for each class individually. If you register for all four, change your payment due for each to $50.
In our own work we focus on tempo, communication, efficiency, and a constant attention to fundamentals. We will share our approach to achieve dynamic movement, release, and continuous sequencing. For pairs coming in with previous material we will also dedicate time to refinement. Partners preferred. Duo trapeze experience required. 6 duos maximum.
Prerequisites: At least 1 session of doubles or instructor approval.
A Choreographic Toolbox
with Tess Munro Pedreros
7:00 – 9:00 pm on Wednesday, June 29, 2016
Cost: $50/student
The aim of this workshop is to help aerialists develop their own unique ways of moving with their apparatus. Students will learn a series of exercises designed to explore apparatus and generate new movement on any piece of aerial equipment. These exercises incorporate elements of theatre, partnering and dance, focussing on the connection between ground and air, as well as developing intention and relationship with apparatus. Students will finish the class with a set of tools they can draw on time and time again, to create new choreography.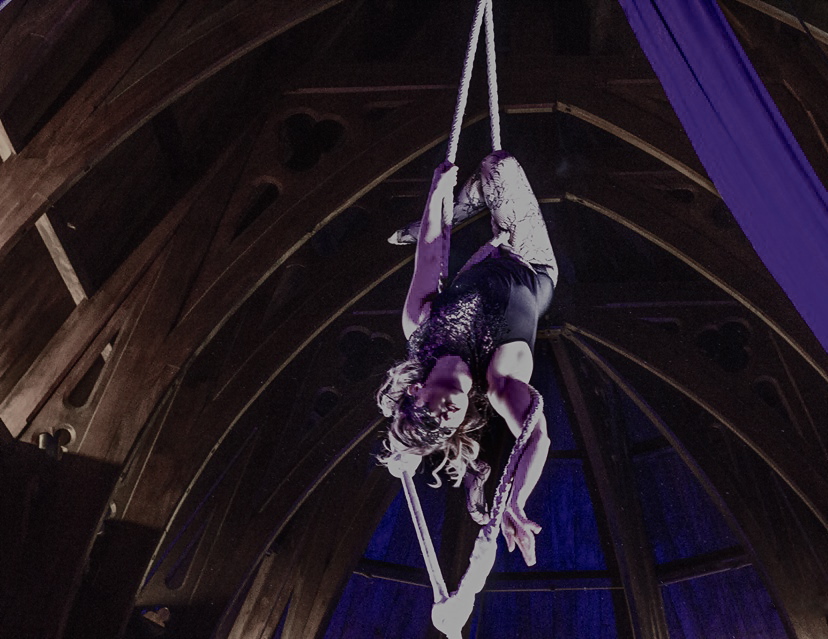 About Tess
After an impromptu flamenco performance in a crowded Spanish restaurant at the age of two, Tess started dance classes and has been performing ever since. Never satisfied with a single style, she tried everything from ballet to ballroom, competitive aerobics to contemporary dance and flamenco to kungfu. She now draws on all these forms to choreograph unique works of aerial dance. Hailing from New Zealand, Tess has performed, directed and taught in Chile, China, Nepal and the US. Along the way she has assisted many aerialists to develop their personal style in the air and create innovative quality acts.
---
Exploring Through Transitions
with Xochitl
2:00 – 4:00 PM on March 19th, 2016
Cost: $55/student
Sometimes trapeze can get a bit rigid and static. This workshop will introduce a new theory towards movement on the trapeze. First we will focus on using momentum and how with proper technique you can begin exploration in your moment of air. Secondly we will go over some sequences that begin unveiling a whole new language of trapeze. From sequencing in the ropes to movement under the bar we will play with a variety of new transitions that will bring a fresh breathe to choreography on the trapeze.
Finding the Beat
with Xochitl
4:30 – 6:30 PM on March 19th, 2016
Cost: $55/student
This workshop is all about beats and tempos on trapeze. We will concentrate on how to generate momentum through breaking down the physics of beats. From there we'll dive into the possibilities accompanied with momentum, how to link tricks together and find exploration in your weightless moments. This workshop will improve your body awareness on the trapeze and teach you how to extract the most from your movement.
Dance Trapeze
with Xochitl
10:00 – 12:00 PM on April 9th, 2016
Cost: $55/student
This workshop is all about spinning and finding transitions with the spin. We will learn some traditional low flying dance trapeze techniques as well as a more contemporary take on the single point trapeze. Since Dance Trapeze is usually about flow and movement we will work in sequences, concentrating on being moved by the spin instead of moving around the spin.

2-Day Aerial Workshop
with Jonathan Fortin
4:30 – 7:30 PM on April 9th and 10th, 2016
Cost: $150/student
Exploring and studying a powerful Aerial Technique.
This high-level workshop is appropriate for any aerialist involved in a regular and serious practice. You will learn to consider the body as the apparatus and not the straps. It is a demanding process that requires determination, intelligence, and passion.
This workshop is similar to a lab; we will be investigating possibilities of the aerial presence of a body hanging and its relation with time and space. You will be introduced to an aerial vocabulary that offers presence and freedom to discover your creativity. Open yourself to new explorative tools of research that will help you compose and and create your personal practice and find original variations.
It is a powerful technique based on the principle of energy expending in the space and the multiplication of direction and dimension.
Intro and Intermediate Partner Acrobatics
with Amaya Alvarado
12:00 – 2:00 PM on November 28th, 2015
Cost: $50/student
If climbing, balancing, throwing, lifting, juggling other humans is your idea of a good time, this is the workshop for you! In this workshop, new students will learn some of the basic principles of partner work, including counterbalance, weight stacking and spotting. We'll get to try basing and flying while developing a good foundation in strength and technique. For more advanced students we'll tackle various lifts, more extreme counter balances and possibly some dynamic movements as students are ready. Come alone or with friends.

Dance Trapeze
with Amaya Alvarado
2:00 – 4:00 PM on November 28th, 2015
Cost: $50/student
This workshop will explore the dynamic and expansive possibilities of single point dance trapeze, Beginning with a guided warm up on the ground and then moving up to the apparatus. We will then dive into relationship between ground and apparatus and what really makes this a dance, as well as discovering ways of entangling and untangling ourselves in the ropes. Students will develop new vocabulary as well as have a chance to explore previous vocabulary in new ways.
Prerequisites: Students must be working at the 1/2 level.

RIGGING 101: Rigging for Aerialists, Coaches, and Crew
With Brett Copes
When: Jan 9th, 10:00am – 5:00pm with a break for lunch.
Where: Versatile Arts, Blue Room
Prerequisites: None!
Cost: $150
Part one of a two-part rigging workshop with Acrobatic Rigging Specialist, Brett Copes of Fight of Flight Entertainment. He has also worked as a rigger with Cirque Du Soliel, Cavalia, and many other companies. Most recently he was Head Rigger for MARVEL UNIVERSE LIVE. This workshop covers the following topics:
Common Dangers and Myths
Choosing Overhead Anchors
Equipment Preferences
Load & Lifting Limits
Your Tech Rider
Standards and Certifications
Rescue Plans
Aerialists: bring all your questions, concerns, and your equipment
(for an informal looking over)….

RIGGING 102: Practical Applications and Dynamic Rigging
With Brett Copes
When: Jan 10th, 10:00am – 5:00pm with a break for lunch
Where: Versatile Arts, Studio TBD
Prerequisites: RIGGING 101, previous Rigging for Aerialists workshop, or equivalent experience
Cost: $150
Part two of a two-part rigging workshop with Acrobatic Rigging Specialist, Brett Copes of Fight of Flight Entertainment. He has also worked as a rigger with Cirque Du Soliel, Cavalia, and many other companies. Most recently he was Head Rigger for MARVEL UNIVERSE LIVE. This workshop covers the following topics:
Shock Load testing
Knots
Counterweight, Mechanical Advantage and Complex Systems
Systems Analysis
Risk Assessment
Performer Lifting, flying and Operations
Proof Loading–

Aerial and Acro Stilts
with Alessandra Ogren
Sept 5-6, 2014
Aerial Stilts
Friday, Sept 5th 6:30 – 9:00 PM
Cost: $60
In the workshop will look at stilts as extensions of our lines in aerial work.  Spinning, swinging, and flying, we will explore the multitude of ways that stilts   can leave the ground. We will work partnering both on and off stilts, using aerial  apparatus to take choreography into the air.
For aerialists this is a chance to see how stilts can add to your lines and extensions, and how the length and weight of your stilts can create more challenges and opportunities for your aerial work..
For stilt walkers, this is a chance to take your stilt work into a new dimension. How can using an aerial apparatus allow for more creative movement with your stilts?
Students must provide their own stilts with shoes attached.  Previous aerial and stilt experience required.

Acro-Stilts
Saturday, Sept 6th 3:00-5:00 PM
Cost: $45
In this class we will look at the fundamentals of acrobatic stilt walking; kick overs, slide falls, lifts and partner work. We will split the time between technical work, and acrobatic improvisation exercises.
Students must provide their own stilts with shoes attached.  Previous stilt experience required.

We reserve the right to cancel or combine these workshops if fewer than 4 students register.
About Alessandra Ogren
Co-Founder, Co-Artistic Director ( 1997 – 2010) Wise Fool New Mexico
Artistic Director – Peñasco Theatre Collective (2000-2014)
Alessandra has been passionately teaching, performing and creating opportunities for others to enjoy the arts of circus, puppetry and theatre for over 17 years. Alessandra was a creator and performer in FLEXION, a Wise Fool production directed by David Clarkson created in 2006 and continues to tour. She has taught at the Aerial dance festival in CO, as well as at The Global Stilt Congress in 2014. Alessandra directed Wise Fool's new out door performance , SeeSaw that toured to Colombia in the fall of 2013. Alessandra continues to vision projects and programs for Peñasco Theatre Collective and Wise Fool New Mexico.
Functional Flexibility
with Laura Stokes
March 29, 2014 1:00 – 3:00pm
Cost: $40
Flexibility heightens the aesthetic of performance, increases movement options, and greatly supports injury prevention. Drawing on information from classical yoga, contemporary therapeutic practices and traditional contortion training this class offers a holistic and internally centered approach to increasing flexibility while simultaneously strengthening the joints. Ideal for aerialists and movement artists of all levels.
Emotionally Potent Performance: An Act Development Workshop
with Laura Stokes
March 28, 2014 12:00 – 2:00pm
Cost: $50
There is a magic that performance strives for, a mystery that ensconces brilliant shows, a power that is unique to an individual's expressivity, and there are skills that tap these qualities. Skills that need to be practiced, as much, if not more than technical execution, if we wish to create meaningful work with all of our virtuosic tricks. Learn concrete tools for developing work that simultaneously holds deep personal meaning & universal appeal. Develop a felt dramatic sense, define your critical eye, and distill your expressive vision through concrete concepts, improvisations, viewing and feedback. Please bring material you are prepared to work with, whether it's a finished act or simply a set of skills, the discipline doesn't matter.
Trapeze Workshops
with Cohdi Harrell
COMPOSING THE SPACE BETWEEN
Transcending traditional ideas of technique and focusing on the extremities of subtlety, gesture and articulated expression.   What does it mean to work with high skill and not do any tricks? Where is the meeting place of improvisation and technique?  Working to create intricate patterns of movement in combination with high skill technique, this workshop offers a space to expand, explore, and challenge the artist to start thinking in new ways about aerial work.TURNING TRICKS
Working to build more efficient technique through understanding the relationship with gravity and momentum. This workshop introduces advancing figures and phrases and focuses on the subtleties of highly technical movement.